We all know that gift shopping is never easy, especially when the receiver doesn't give you much to work with! In fact, I'm extremely lucky I'm not writing a guide for buying gifts for difficult people.
Instead, this guide is about gifts for the coffee lover in your friend group or family, and it's intended to help you figure out what to get the coffee drinker who has it all! After all, it can be hard to tell apart contraptions and brew methods if you don't drink coffee yourself. Rather than bothering your local barista (who may or may not have time to talk to you) – just read this post! You'll be an expert in no time.
Also, note that this guide assumes you want to knock your gift receivers socks off. Gifts on the cheaper end are totally fine, and handmade gifts are even better, but top coffee tools hardly ever come cheap! Proceed with the knowledge that you may be dropping a tiny investment on your loved one's caffeine addiction.
So, without further ado, here's ten hot coffee gifts for people who actually give a sh*t.
1. A Coffee Subscription (Price Varies)
Your coffee-loving fam/friend/SO probably already knows about these, but you might not! Basically, a number of high-end coffee roasters offer two basic types of beans – blends and singles. These work the exact same way that classy whiskey does.
Blends are grown in lots of different places and mixed together, and single-origin coffee is grown in one place, usually at one specific farm.
Blends are great for espresso and mixing with milk, and singles are great black because they pull more unique characteristics straight out of the soil. As an example, single origins from Kenya tend to be sweet and fruity, due to the volcanic soil they're grown in.
These rules aren't hard and fast, however. Sometimes singles work very well as espresso. But, if you're buying for someone who always drinks black filter coffee, they might be into hot singles in your area. 😉
If they are – into single-origin coffee that is – some roasters run coffee subscriptions, in which they send you a different single origin every month! Here's one from NZ-based Rocket coffee, currently priced at $84 for three months, and $168 for six months. For comparison, Supreme and Kokako also run subscriptions, but these are charged weekly depending on (1) what coffee you want them to supply you with, and (2) a whole range of customisation tools. Weekly subscriptions tend to be between $10 and $20 a week.
2. Aeropress ~$70
Many coffee drinkers will tell you the Aeropress is the single best way to brew coffee. It's super easy to use, looks cool, and makes good coffee. That's all we really want, to be honest.
The Aeropress, if you've never heard of it before, is a weird little plunger contraption that makes coffee through a tiny circular paper filter. The brew it yields sits somewhere between the really light and tea-like coffee you get out of many other filter machines, and the opaque, grunty syrup of espresso. Essentially, it's got a little bit of pressure to it, but not too much, and it's all powered by your arm. You know what they say about coffee snobs; they got great arm strength.
An Aeropress comes with all the bits and bobs you need to make it go, minus coffee and hot water, and will set you back about $70 depending on where you get it from. Join the trend! There's even a championship event for it! 
3. Hario V60 Coffee Pour Over Kit ~$50
A slightly cheaper option for brewing fancy coffee at home is the tried and true Hario V60. These things have been around for yonks, but people still love the glorified funnels. I have two!
All you need to know is that the kit comes with a cone that you can put little triangles of filter paper in, but there is, of course, more to it than that. Die-hard coffee fans like these because they give you a lot of control over the brewing process. You control how much water goes in and when, and you control the bloom, allowing you to make up your own brewing recipes for different coffee beans! Yes, all those words are real and mean something to coffee people. The whole process of using one can come across fairly impenetrable to casual coffee drinkers, but the pomp and ceremony is part of the fun!
The Hario V60 is around $30 by itself, but they come in varying sizes; a 2-cup will be more expensive. They also come in kits, with servers and scoops and filters, and these are closer to $50. The basic $30 V60 by itself is not plug-and-play – you'll need to get the paper filters separately. And before you ask, yes it matters which ones you get. Allow me to explain why!
The biggest difference between a V60 and any number of similar brew methods is the paper grade. This specifically refers to the size of the tiny holes in the paper. Very fine grade paper filters out a lot and leaves you with a very light, airy coffee, which is typical of chemex paper. V60 paper, on the other hand, tends to be coarser, and more of the 'imperfections' get through, resulting in a more layered, complex flavour. Whether or not that makes any sense to you, people like it.
4. Clever Coffee Dripper
Speaking of similar brew methods to the V60, the clever coffee dripper looks very similar but has a fun little plug-hole contraption in the bottom that keeps the funnel from draining until you put it on top of your cup. This allows the brewer to combine two brew methods – immersion and gravity – into one.
Gravity brewing covers things like drip coffee and pour-over, the latter of which is what you're doing when you make a V60, because you pour the water over the top of the thing yourself. See? I swear this stuff makes sense.
Immersion brewing is much more common – it's what plungers use. You let the coffee steep for a while and then drink. Easy peasy.
Clever drippers are a great gift for someone who's very into brewing coffee, because chances are, they won't already have one, but they'll be interested to figure out how it works. Unless you're buying for someone who has one single brew method that they'll go to bat for forever, it's likely they'll appreciate having options when it comes to brewing coffee at home. Sometimes you just want to fill up a thing and let it sit.
5. Bialetti Moka Pot ~$60+
Stovetop pots are another very popular method of home coffee brewing in New Zealand. Having lived in several Auckland flats and melted a fair few of these things by leaving them on the stove too long, I think I have a fair understanding of which one is the best.
The Bialetti Moka Pot is widely regarded as the OG stovetop coffee pot, and the Italian-based company has been making them since the 30s. While it's not technically espresso, as the water pressure isn't high enough, it's similar. And depending on who you ask, it's better. Bialetti Moka Pots brew a style of coffee that's truly their own.
There are a number of kitchenware shops that stock them, or you can order from their website. Note that the prices go up based on size, starting around $60, and increasing from there.
6. Rhinowares – Compact Hand Grinder ~$75
Grinding coffee is a very important part of the process. I'm not going to say you shouldn't buy ground coffee, or pre-grind your coffee beans ahead of time, but you absolutely shouldn't.
Not everyone cares so much and that's perfectly reasonable. However, a lot of coffee professionals will tell you the fastest way to elevate your coffee game at home is to start grinding your coffee right before you make it. After all, the aromatics in coffee disappear around five minutes after the moment you're done grinding. If you're buying for someone who loves to make coffee at home but they've never made the leap into home grinding, maybe that's your opportunity to blow their mind!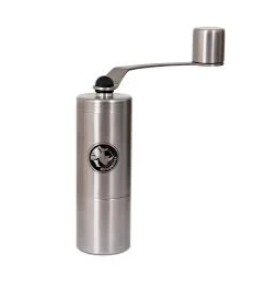 The Rhinowares compact hand grinder is a great entry-level grinder. It'll teach them about conical burrs, and it's small enough to fit inside an Aeropress, making it perfect for travelling, camping, or hiking. 
Granted, hand grinders can get tiring to use and aren't ideal if you want to make coffee for say two or three guests, as they can take a few extra minutes to get the job done. But it has to be said: there's something kinda fun and magical about using them. 
7. Baratza Virtuoso Grinder ~$300
Go big or go home. If you're getting an electric grinder, it's gotta be good. There are some great ones you can get at Briscoes for about $70; a really good herb mill will get the job done. But don't be fooled by cheaper electric coffee grinders. If you want a piece of hardware that's dedicated to coffee grinding, you're going to be in the ballpark of a few hundred dollars no matter what you do. Go for the best. 
The Baratza Virtuoso is so good that it gets used in commercial cafes as a back-up, and a lot of high-end places might use it for grinding decaf. When an order pops up that needs different beans to whatever is in the main grinder that day, you need to be able to throw a few grams of something into another grinder that's reliable and ready to go.
The gold standard for electric grinders is the Mahlkönig EK43, but I'm assuming you don't have space for one, or spare five thousand dollars. Smaller cafes that don't have bench space for an EK tend to fall back on the Baratza Virtuoso. It's cheap, relatively accurate, and your coffee-lover is going to be able to use it to grind coffee to specific sizes, for specific brew methods. 
8. Hario Buono kettle 1L ~$70
Another Hario product, the Buono is well-used throughout the coffee world. The distinctive swan-neck spout is designed to make aiming a stream of water a breeze. These are typically used for highly accurate pour-over brewing, so you'll want to look into them if you're eyeing up the Hario V60 from earlier in the list.
The kettle is also valuable to anyone who regularly uses any other cone filter brewers like chemex, kalita, etc. 
9. Brewista Smart Brew Digital Kettle 1.2L ~$200
If they've already got a Buono, why not upgrade to the jug with all the fancy accessories? Another widely used coffee making kettle, the Brewista Smart Brew Digital Kettle is a truly incredible piece of work.
The kettle features the swan-neck spout, but its utility is elevated by its digital controls. When using the kettle, you can set it to a specific temperature, down to the degree. This is wildly useful for coffee, as it's considered bad practice to brew coffee with boiling water. Hot tip: between 91C and 96C is considered the ideal window.
The Brewista goes directly to whatever temperature you tell it to, and then it stays there! You can tell the kettle to hold a temperature, and it will do it for up to an hour. You can even program it to start automatically first thing in the morning.
Ah, gather around children, bask in the warm glow of technology.
10. Brewista Smart Scale 2 ~$135
The final item on our list is another Brewista product: the Brewista Smart Scale 2.
Coffee scales, you say? Yes, I respond. Coffee scales are a thing. Weighing out the perfect amount of coffee to grind is one of the core principles of a great cup of coffee. 
Before we get too side-tracked on what constitutes a great cup of coffee, suffice to say that scales are often left behind when it comes to home coffee brewing. This especially because it can be tough to justify buying yourself one when you've got perfectly good kitchen scales already. But are they actually perfectly good? Well, maybe. My kitchen scales aren't accurate enough to weigh coffee on, so that's the biggest selling point for me when it comes to the Smart Scale 2.
The Brewista Smart Scale 2 comes with a ton of features that your coffee-fanatic will love to play with; timers, programs, automatic tares, and more.
There are other coffee scales out there, but they can get pretty expensive too, as most of them are intended for hard and fast commercial use. That, and they need to stay accurate for hundreds of measurements over a gruelling day of work.
---
Want more gift guides?
If you want more guides like this one, subscribe to the Zizacious newsletter, and make sure you don't miss out!